Get Started with
reddiTraffic

Today!

It's time to put your content marketing on autopilot and bring in the traffic.

Sign up now
Fellow Entrepreneurs, Business Owners, Social Media and Online Marketers...
Ali G here.
First and foremost, I want to say, I feel your pain.
The
biggest thing

that most people struggle with is getting eye balls on the stuff that makes money...
That could be your website, blog, ecommerce shop or all three.
If you don't have people visiting, you won't be making money...
but we all know that. So how do you get eyeballs to your profit centers?
Well here are a few things you could do...
You could spend a bunch of money on ads and be thoroughly confused while doing it (and likely not profit).
You could give half of your revenue away to JV's and affiliates.
You could have content so good that it circulates itself, builds authority within your niche while at the same time driving loyal customers to your profit centers 24/7.
I think 3 is the obvious way to go and I'm not the only one...
The Number One Thing Consumed In The World...Is
Hot Content
But let's face the
hard truth

, having this type of content working for you is not as easy as it seems!
"Make some cool content your niche cares about"
Sounds easy enough, but then you end up falling into snags...
Because...
Are you the type of person that can come up with unique and engaging ideas, all day long, every day?
Do you have the budget to pay someone else to do this exact thing all day long, every day?
Do you even know which content your audience is going to want?
Let's face it, all of this takes time, energy and money that you need for other things in your business like; growth, expansion, and tools of success like reddiTraffic.
We all know it, "content is King" but what they didn't tell you, is that's just the beginning.
The real heart of the matter is creating quality content that
stands out

in a loud, competitive marketplace
And it takes hours, days, weeks or even good chunks of money to outsource the creative power needed to make quality, viral traffic.
And you, like me, probably have dozens of other things you need to focus on within your business – getting the type of content you KNOW you need tends to end up taking a back seat, no matter how important you know it is.
But you
don't NEED

to struggle to create your content anymore
There is an ocean of quality content out there, already created and in circulation – ready to benefit you.
You need content in this content hungry world, and you need it on a consistent basis, especially right now...
...and you don't have the time (and it doesn't make sense) to create it all from scratch.
Instead of all of the theories of content curation and sharing out there, I can prove that the
BEST source

of viral content for you, is one of the most overlooked: reddit
If you use reddit, you know why reddit is called the Front Page of the internet.
'The front page of the internet'
reddit is coined as the Front Page of the internet?
By whom?
People, like you and me, who are constantly browsing the internet and posting the best of what they find on reddit.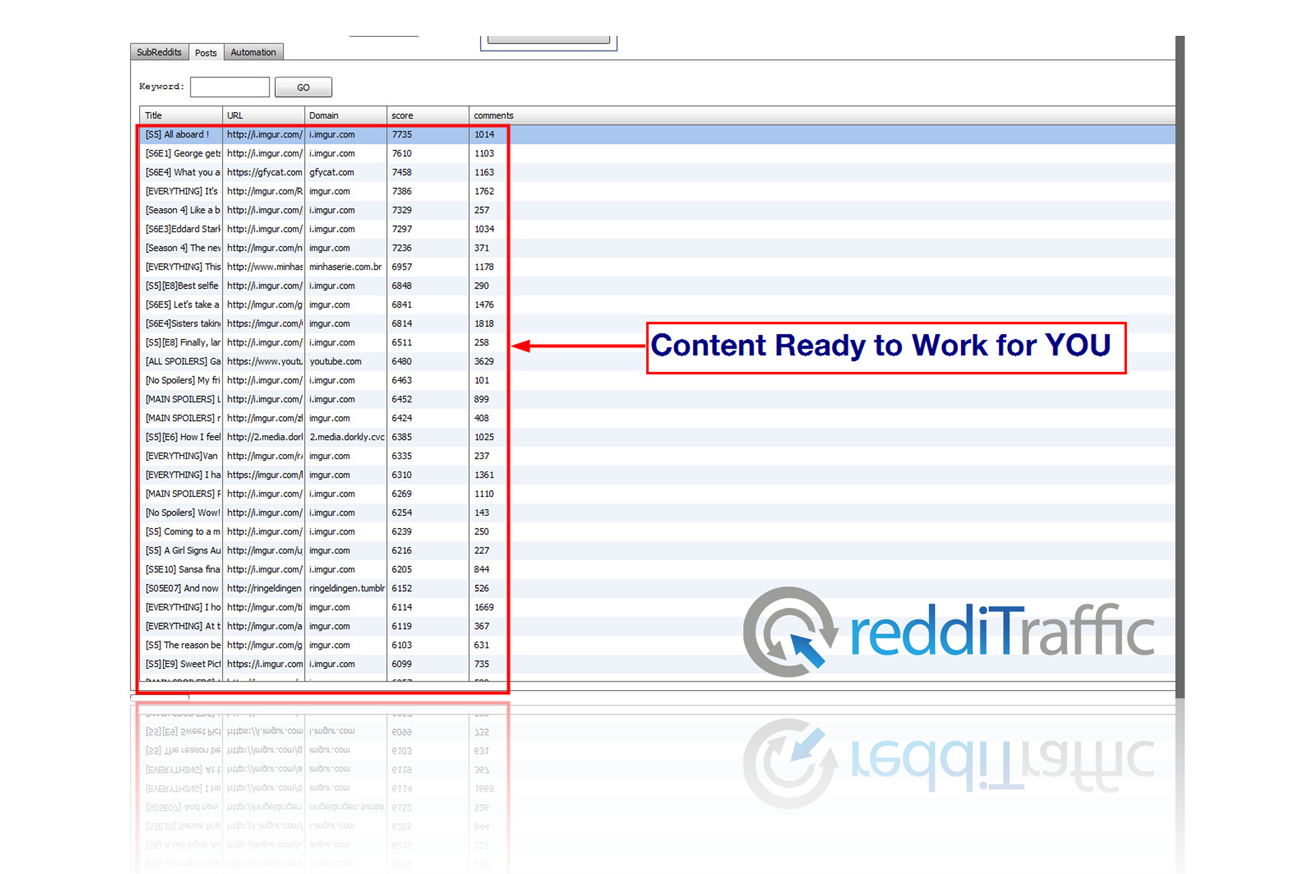 These people are often the same people browsing on your sites and buying your products. So when they decide something is viral and worthy of recognition, they post it to reddit.
Not only does it get posted, the best of the best get up-voted and sent to the front page of any sub-reddit.
Sub-reddits

: Your niche content dream!
Sub-reddits are created by the users and are often super-niched in their topics.
This is great for any business owner in any niche because this is basically a closed place of like-minded consumers in your niche.
For example, for those in the health and fitness niche, they have dozens of health and fitness sub-reddits.
Each sub-reddit is populated with posts that are relevant and worthy of sharing. Even so, the best posts within those sub-reddits get naturally up-voted and sent to the top of the page.
When you are browsing for the best content to use on your sites, visiting sub-reddits and looking at the top posts make sense and is an easy and effective way to find the content that your niche most reacts to.
It makes sense why they call it the front page of the internet and it makes sense why your focus should be on reddit.
Introducing reddiTraffic
Put out content that is ready for your traffic to consume.
reddiTraffic is a complete package built on Adobe AIR. It's a lightweight desktop application that is easy to use and requires very little to run.
It's connected and trusted by reddit's API and is safe and will be supported by our developers.
You can use it on any computer, laptop or desktop.
As it is an Adobe Air app, it is compatible with both PC and Mac. Updates are automatic and painless too.
Using reddiTraffic to automate your content posting is a painless process, as you have seen in the video above.
Read on to discover more of what reddiTraffic can do for you.
reddiTraffic takes the hottest,
most viral posts

from reddit and posts them to your Facebook page, Twitter and WordPress Blog
The content on reddit is already on fire and you don't even have to spend the time to find it.
With reddiTraffic's smart scoring system, you can easily filter and decide which posts are worthy for your site and easily post them with a few clicks.
You can even use the Sub-reddit feature and take advantage of super-niche content that your super-niche will consume like candy!
Simply choose the sub-reddit or multiple sub-reddits that you wish to pull content from, choose the specific post and click post to Twitter and BAM!
You have successfully posted an 'already viral' piece of content that you can be rest assured your audience will enjoy.
Even better, is that within reddiTraffic's Artificial Intelligence, you have the ability to spin texts for descriptions that are highly favorable by Google's ranking algorithms.
Don't worry, your allowed to post things from reddit and you won't get deranked for doing so, all because of this intuitive feature I knew I had to include before reddiTraffic was released.
How reddiTraffic works
reddiTraffic is the world's first standalone app that lets you quickly identify the most viral and popular content and then share this content on your blog, FB and Twitter feed. The entire process is hands off, so your content factory is doing all the hard work for you behind the scenes.
Search for sub-reddits by inputting relevant keywords
Use reddiTraffic's smart scoring system to pull the most engaging content
Customize a body message to go with your posting
Automate the entire process for a week, month or even a year
let reddiTraffic automatically and naturally build you a site that's active, fun and poppin!
Bringing you customers and clients all the time...a booming business...
...And you don't do anything to maintain it
As you can see, reddiTraffic is designed to help you drive traffic thanks to the power of good viral content in a really unique and powerful way.
So...Let's re-cap the issue at hand here...
Content is King...But is your content working for you, or are you working for it?
Let's face it, sourcing content is the hardest and most rewarding thing for any business owner, marketer or entrepreneur.
Getting the right content in front of the eyes of your visitors is make it or break it and often it feels like an uphill battle.
The good content is out there, and its safe to assume that it's in a place where you can reach it, secure it and utilize it; right?
That's correct, and that place is called reddit, and reddiTraffic will harness all of reddit's powerful content, pull only what's useful to you, and use it to bring you traffic, customers and sales.
I'd like to invite you to become a Founding Member of reddiTraffic
As a Founding Member, you will have access to reddiTraffic for the lowest investment which it will ever be available.
reddiTraffic's future retail rate of $97/month will still be a great value to any entrepreneur.
$97/month for all of your content creation to be handled for you, in a powerful, systematic way that's proven to build your business...that's amazing.
But during this week...
Founder's Week...
It will be available for $47 – ONE time, for LIFETIME access.
NO MONTHLY FEES… EVER!
I can think of no better way to say, from the bottom of my heart, thank you for becoming one of the Founding Member's of reddiTraffic...
...Than to make sure you'll never pay more than $47 to have the best chance at harnessing the best content to drive traffic and make sales.
Click the button below right now to grab your Founder's copy of reddiTraffic for the best possible investment right now:
Get Started With
reddiTraffic

Today!
Install on 1 computer
Post to FB, Twitter, WP
Auto posting
No Contract, Cancel Anytime
(Price rises with every sale)
Install on 3 computers
Post to FB, Twitter, WP
Auto posting
VPS setup bonus for 24/7 ON Mode
Lifetime access
100% Iron Clad Guarantee
If you want more traffic and sales for your business, then I truly believe that the most important thing for you to do is get reddiTraffic right now.
And this is important:
If you cannot get reddiTraffic to work, then all you'll have to do is show us your problem and if we cannot help you will receive a refund of your investment today.
It's on me to prove that reddiTraffic does everything I say it does.
So grab your copy of reddiTraffic today with confidence and peace of mind.
It's time for you to have compelling content that brings hot and ready traffic to your profit centers; all done for you automatically.
So if you're at all curious about seeing just how powerful reddiTraffic can be for your business...
Building your exposure and traffic in a way that people LIKE, and grow connected to
Which results in reliable leads, and sales, 24/7, all hands-free...
Then give reddiTraffic a try right now.
Click the button below to secure your copy of reddiTraffic right now at the Founder's special:
Get Started With
reddiTraffic

Today!
Install on 1 computer
Post to FB, Twitter, WP
Auto posting
No Contract, Cancel Anytime
(Price rises with every sale)
Install on 3 computers
Post to FB, Twitter, WP
Auto posting
VPS setup bonus for 24/7 ON Mode
Lifetime access
Saying "No" to reddiTraffic is like sending 15,000 visitors to your competitor's website every month
Because if you say No to this opportunity, that means ALL of the viral content in your niche
...that's being shared on Reddit by the gigabyte every second...
is now working to drive traffic not to your site, but to your competition.
THAT simply does not make any sense.
With reddiTraffic's low, 100% risk-free investment, it only makes sense to try out reddiTraffic for yourself right now.
Do NOT pass on this opportunity.
In the time you spend thinking about it, you can setup reddiTraffic, and see your first visitors find you thanks to your new awesome content
This is my exciting promise! This is what I want you to have right now!
You can run reddiTraffic and have this golden content working for you in SECONDS from now.
No more stressing over what content to create...
No more wasting time and money creating the content...
No more being unsure if your audience will even like it!
Instead...
Hot of the presses content that your niche is proven to love… Getting eyeballs on you, your offerings, and bringing you new sales and customers...
Starting in literal SECONDS from now.
Really, really exciting… Can't wait to get you set up and rolling.
So let's click the button below and rock this! It's going to be so awesome!
Get Started With
reddiTraffic

Today!
Install on 1 computer
Post to FB, Twitter, WP
Auto posting
No Contract, Cancel Anytime
(Price rises with every sale)
Install on 3 computers
Post to FB, Twitter, WP
Auto posting
VPS setup bonus for 24/7 ON Mode
Lifetime access
FAQS
Q: What is reddiTraffic?

A: It's a desktop Adobe AIR app that serves as a tool to help you with your content marketing AND boost organic traffic to your FB, Twitter & WordPress.
Q: Does it work on Mac?

A: Absolutely. reddiTraffic is an Adobe Air app and so it runs on both PC and Mac.
Q: What does it do for me?

A: It takes the top posts on your selected Sub-Reddits and posts them to your social media profit centers.
Q: Why should I get my content from reddit?

A: reddit is coined as the 'front page of the internet'; all of the content on Reddit is hot, engaging and already viral.
Q: What if I've never been on reddit?

A: Regardless, reddit is still a power place to find content. If your new to reddit, reddiTraffic will save you time and money from having to search reddit for the top posts. Simply input your Sub-Reddit of choice inside reddiTraffic and let the app do all the work for you.
Q: I'm new to content marketing, will this help me start?

A: If your new, then content marketing will be the easiest way for you to stand out. With everyone else knee deep in whatever marketing strategy they use, it'll be much easier for you to pivot than your competitors. It's better to start early than later.
Q: I have a really old computer, will it work on that?

A: Yes! ReddiTraffic is a light-weight desktop application that will work on all computers (new or old) and any operation system (except windows 95, please don't use windows 95)
Q: Is it a one time payment or monthly?

A: One-Time. Since you're visiting during founders week you will get this one-time price locked in for life.
Q: How much is it?

A: $47 one time, but if you leave this page and come back when the Founder's Special is over the price will be at $97.
Q: Is there a guarantee?

A: Yes there is a 30 day money-back guarantee. If your software is not working, just contact us at https://aligmarketing.zendesk.com and we will work with you towards a refund!
Sign Up Now
Still have questions? Write to us at support@aligmarketing.com
at ali g marketing, we deliver the tools to take you to the next level
Our Team
Ali G
Founder and CEO of Ali G Marketing
In a previous life, Ali G was a proprietary trader on Wall Street. Now he's a full-time Internet Marketer dedicated to helping marketers and entrepreneurs all over the world get to the next level with their businesses in the new information age of the 21st century.
Marcus Lim
CTO of Ali G Marketing
Marcus Lim joined Ali G Marketing in mid 2012. Since then, he has developed various multi-platform Award-winning software & tools for Ali G Marketing as CTO.
Put your content generation on autopilot with redditraffic
It's time to put your content marketing on autopilot and bring in the traffic.